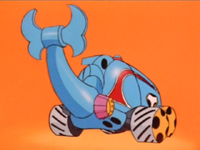 Time Mechabuton (タイムメカブトン) most commonly known as the Time Bokan I is a time machine built by Dr. Kieta and the main mecha in Time Bokan. This blue machine resembles a Japanese rhinoceros beetle. In the english dub Time Fighters, the machine is known as the Scorpion 2 with the Narrator pointing out that there is no Scorpion 1 saying that the professor didn't want to waste the time.
The machine's primary weapon, a rotary saw/digger fashioned like the beetle's large single horn.
Durable all-terrain tyres, enabling the machine to travel to a maximum of 200 km/h (approx. 125 MPH).
Wings which will open just like the actual insect's to allow flight when powered by its jet engines. They can also be used to flap to create sandstorm by flapping.
A defensive missile launcher mounted in the bow.
A small red dome on its back; it is a manually pilotable scouting/surveillance airship named the "Ladybug-Drone" (テントウキ Tentōki?), which can either operate on its own, or to simply serve as a lookout post of the main machine. It includes a series of wacky gadgets and tools including mechanical limbs, shears, fire extinguishers, reflectors, nets, slingshots, and others.
A small submarine called the "Strider-Marine" (ヤゴマリン Yagomarin?) hidden in its belly.
A remote control of the whole system incorporated in the watch of Dr. Kieda.